En andra chans (Bio)
.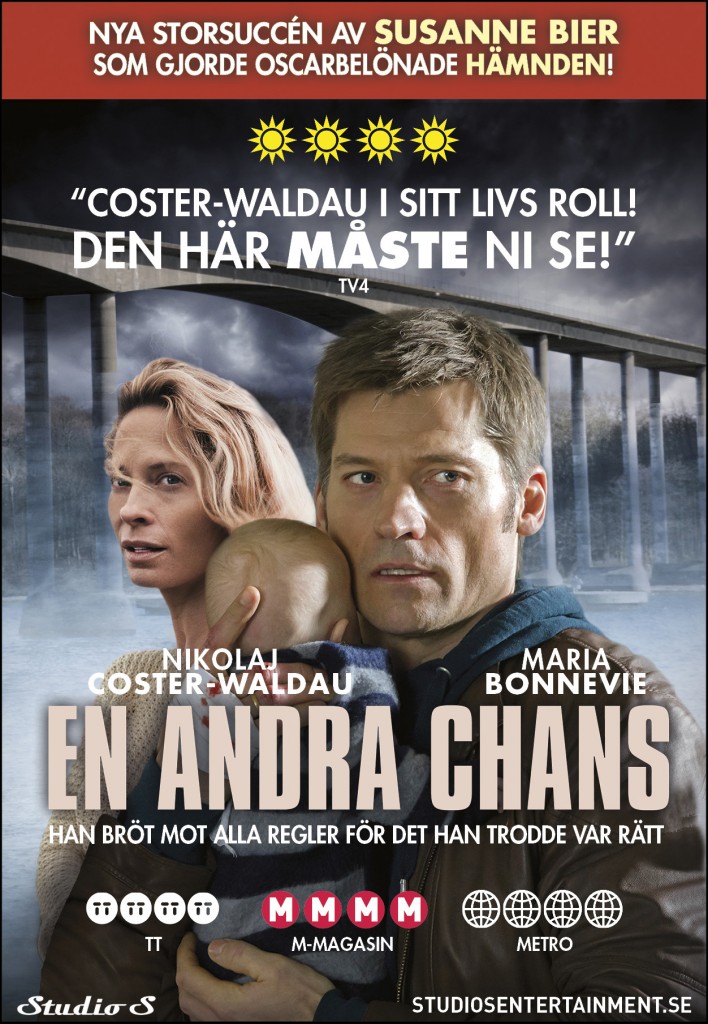 Poliserna och bästa vännerna Andreas och Simon lever väldigt skilda liv; Andreas har slagit sig till ro med fru och barn medan Simon nyligen skilt sig och spenderar det mesta av sin vakna tid med att dricka sig full på den lokala strippklubben. Men allt förändras när de båda kallas in för att reda ut ett bråk hos ett par knarkare och Andreas hittar parets spädbarn gömd och gråtandes i en garderob. Den vanligtvis samlade och ordentliga polismannen blir fullkomligt skakad av fyndet av den lilla pojken och sin egen maktlöshet i situationen. Medan Andreas sakta förlorar greppet är det istället upp till Simon att försöka hitta balansen mellan vad som är rätt och fel.
En andra chans är Susanne Biers (Hämnden, Efter bröllopet) senaste film med bl.a. Nikolaj Coster-Waldau (Game of Thrones, Kingdom of Heaven) och Maria Bonnevie (Jag är Dina, Insomnia) i rollerna.
——————————————————————
Press/Marknad: Johanna Holmin Direkt: 08-21 08 04 E-post: johanna@studiosentertainment.se
Filmbokning: Pernilla Louhelainen Direkt: 08-21 08 04 E-post: pernilla@studiosentertainment.se
——————————————————————
PRESSBILDER: www.yousendit.com/download/bXBiTkFqb0IwMEZjR01UQw
AFFISCH: https://www.yousendit.com/download/bXBic0wvYWJIcWRESjlVag
——————————————————————
**** "Coster-Waldau i sitt livs roll! Strålande!" "Det här måste ni se!" – Ronny Svensson, TV4 Nyhetsmorgon
**** "Ett starkt drama om skuld, orättvisa och förlust" – TT Metro
**** – M Magasin